I've been reaching out to people I admire to share their why bother stories – the times in their lives they felt stuck or lost or despairing – big or and small – and what turned things around.
Today's story is from the fabulous Caroline Donahue.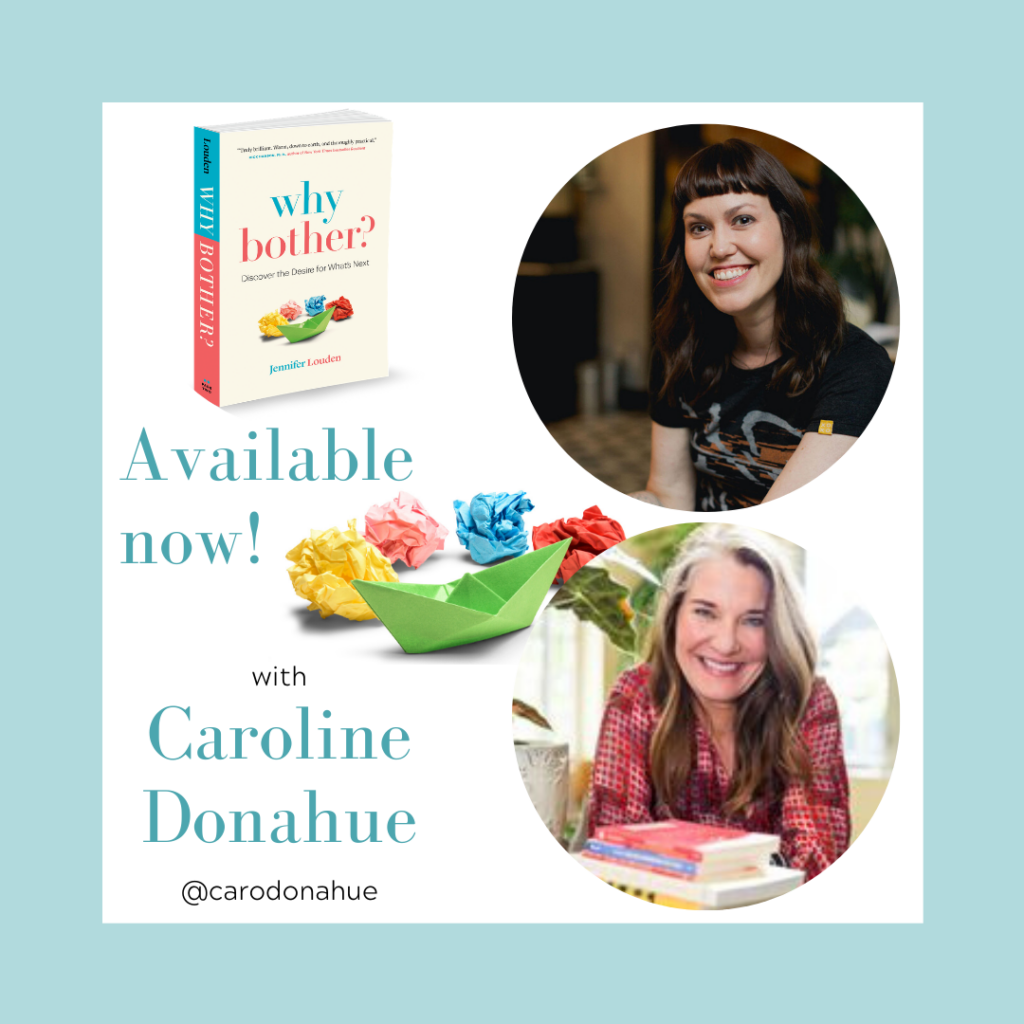 Can you tell me about a time in your life when you felt discouraged or defeated and wondered, "Ugh, why bother? What's the point?"
As I was getting to the end of the previous draft of my novel, I was OVER IT. I have been working on this book on and off since early 2017, and coming to the end of the third year having now yet reached THE END, I was exhausted. I wanted my characters to go bother someone else, and to sleep for about a month. Everything felt heavy.
What brought you out of it, tipped you into bothering again?
A friend asked me if I'd be willing to house sit for her and watch her cat in London for a week. I had signed up for a writing retreat a couple of days after she returned, also in England, so I extended my trip so I could come over. As London is an hour and a half flight from my home in Berlin, this was an easy decision. Unhooking myself from my everyday world, taking walks in her neighborhood, visiting some favorite bookshops and getting up every morning and following the plan I'd laid out and continuing to write forward helped so much. (As did the gluten-free section of Marks + Spencer). At the end of that week, I traveled to a retreat and got to spend five days talking about writing with a lovely small group of people who love stories as much as me. It was this combination of time alone to recharge and focus with time together with like minded others that pushed me through. I finished the draft a little over a month later.
What's something you feel bothered about right now, in a positive way? What makes you excited to get out of bed?
I'm currently revising that same novel and I'm so enjoying the process. I always feared revision, thinking that drafting was the fun part and revising would feel really technical and dead. In fact, it's the opposite and I love this process even more than I had hoped. I've published a nonfiction book and an anthology as well as worked as an editor for an auction house catalogue in the past, so I know nonfiction revision well, which is far more technical and can get dry. Fiction is the opposite- things are springing to life, taking on bright color in my mind, and I am on fire to continue the project. It helps that I'm currently releasing episodes of the podcast that all have to do with revision, which is leading to wonderful conversations on social media about other people's projects. I've managed to recreate that experience in the fall- time alone to write and time connecting with others, and it's magic.
You can connect with Caroline here:
Facebook: https://www.facebook.com/carodonahue/
Instagram: instagram.com/carodonahue
Websites: secretlibrarypodcast.com & carolinedonahue.com
Now it's your turn to #getyourbother on – what can we do to support you? Comment below or on Facebook here.

Available now: Why Bother?