Steady as She Goes
This month, I've been concentrating on surfing the sensation of steady.
Not giving in to my ups and downs.
My grand plans and fantasies.
Or my worst case scenarios.
I've long known equanimity is the best psychological and spiritual path for me; however, I've always judged that as terribly boring.
I believed that being fully alive meant feeling everything and showing it too.
Oh so adorable.
Turns out cultivating equanimity is actually incredibly satisfying. It can mean showing up to work on my new book idea and choosing not to be discouraged when I can't figure out how to connect the dots in a chapter. It can mean choosing not to become inflated with visions of writing the best book EVER when my writing does go well.
Cultivating equanimity can mean trying new things to spread the word about The Writer's Oasis and not taking it personally when they work. Or when they don't.
Cultivating equanimity means when Bob and I disagree about buying a rug for the living room, I don't fall into the story that he never agrees with me and he never likes what I like and…
You get the idea.
It's a balanced time in my life right now – my mom is stable, my health is good, our kids are doing great, my work feels satisfying and useful, and that means it's the perfect time to practice being okay with being okay.
As always, it comes back to working with my mind and emotions. To softening my clenched jaw and my righteous story of what is right and what is wrong. It comes back to welcoming my experience and my thoughts without fusing with them or believing them to be absolute or true.
Maybe I'm getting a little wisdom in my middle age (that would be nice!). For sure, I'm loving inhabiting the land of equanimity big time.
My question to you where or with whom might you cultivate a little steadiness?
Recently On my Blog (in case you missed any posts)…
Making Space for New Voices – Guest Post with Leesa Renee Hall
The Essential Act Every Creative Most Do
Journal Prompt of the Month (for your writing pleasure)
Where and when do I experience equanimity in my life?
Where could I use less equanimity and steadiness?
Where could I use a little more?
What I'm Reading / Listening To / Watching
I Am, I Am, I Am by Maggie O'Farrell
Ingeniously structured and gorgeously written thematic memoir about the author's near death experience
When You Need Creativity to Strike, Make Way and Gear Up
The importance of having your creative tools.
My writing coaching client Melissa Daimler's great article in Harvard Business Review
Why Great Employees Leave "Great Cultures"
Do you know where your healing crystals come from?
Snarky but useful.
Malcolm Gladwell's podcast Revisionist History
I haven't always been a fan of his writing, but I loved Episode #7 about Leonard Cohen writing Hallelujah. For every creative!
Quote of the Month from The Writer's Oasis
One of the things I love best about the Writer's Oasis is that we work together over time. Programs and retreats are fantastic but to truly create the writing, the work, the life we want, we have to keep experimenting and showing up. Kim is doing that and it's breathtaking to witness.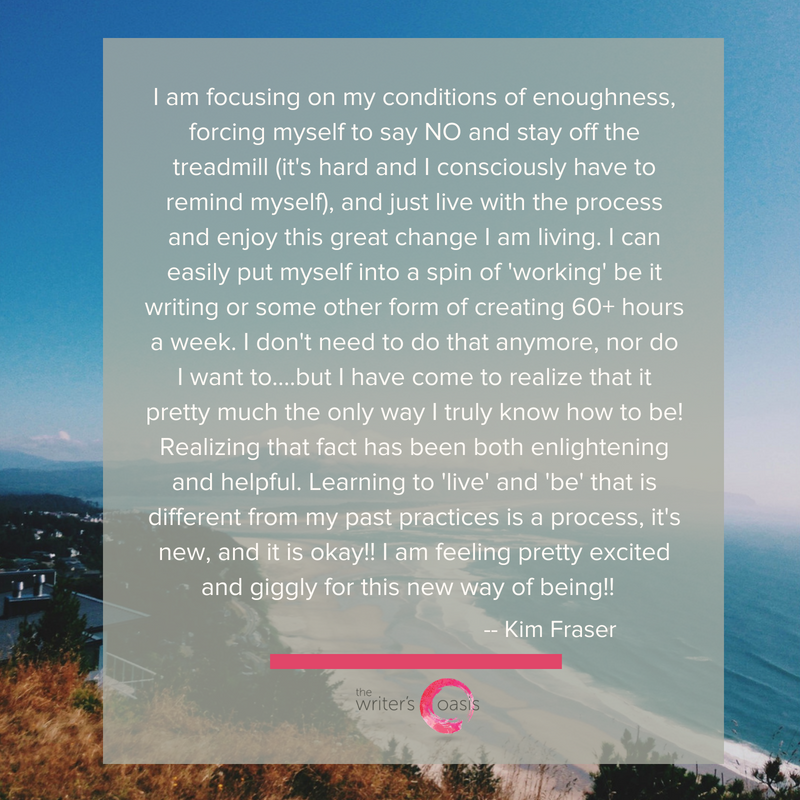 What I'm Excited About
Trusting myself and my teaching even more. Letting in how good I am at teaching without attaching this hard won ability with being important or special.
Finding ways into my heart when I write the new book instead of being waylaid by beautiful language and wanting to impress you.
Speaking of my new book, I am excited about it. The working title is Lessons the Self-Help Guru had to Teach Herself. I've got a rough table of contents and a great intro and a half a chapter. I'm letting myself love it and want it without picturing an outcome or needing it to do something for me.
Running. I know, I know. Get over it Jen. But it's the coolest thing that I can run 5 miles and want to keep going. To feel these moments when my body takes over and my mind shuts off. I can only marvel.
Giving money to the causes I care about monthly instead of every now and then. I know that small regular donations make a huge difference to charitable and political nonprofits. It also helps me to give more because I don't think about it except once a month when I check my credit card. If you want to change the world, giving money is a great way.
I hope there are many things in life you are excited about. I am excited to be in conversation with you.