I came around the corner of the Mabel Dodge Luhan house Friday morning. I'd just finished my morning run to the cross and back.
After I caught my breath, I noticed one of my lovely students Lisa sitting under the nearby pear tree.
"Morning," I said. "How are you?"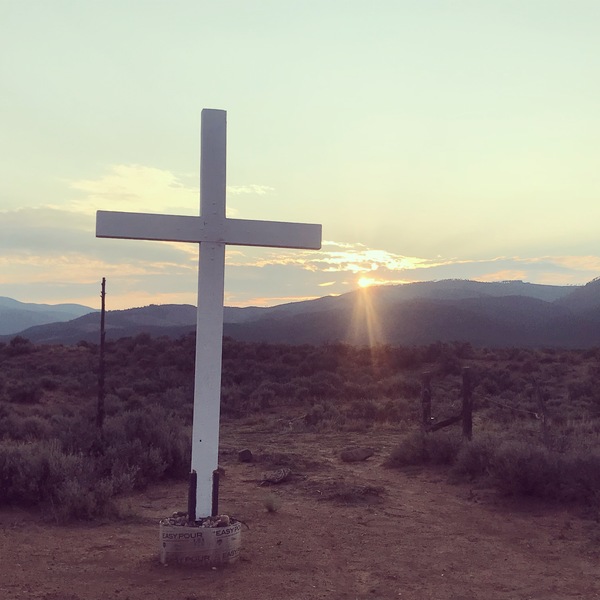 "I'm great. I had a realization last night. I realized I'd been feeling agitated because I was thinking that because the writing this week was hard, I'm not really a writer."  
Ah… that story…
If it's hard, we are doing something wrong.
Or it's a sign we aren't talented enough.
Or that a desire is "not meant to be."
Making art, writing a novel, sustaining a marriage, building a business, sometimes we believe it's just supposed to flow.
That's because sometimes it does! Sometimes projects and relationships are easy and things (people, ideas, words, colors, etc.) click.
Thank god!
But these times, as delicious and satisfying as they are, don't also mean when an endeavor or desire is difficult, something is wrong.
All it means (more than likely) is you want something you aren't yet capable of creating.
You want to be less reactive with your partner.
You want to structure your novel to be a page turner with realistic characters.
You want to increase your business profit by 10%.
You want to develop a new style of painting using cold wax and oil crayons.
But you don't yet know how.
You have to learn.
And learning, as you know, is often awkward and exhilarating and frustrating and hard on your self-concept (your idea of yourself).
Whenever your self-concept is threatened, your inner critic gets loud in an attempt to get you to GO BACK into what's KNOWN. What's SAFE.
Your inner critic will do anything to get you to stop, including telling you that because you're having a hard moment, you'd better back off.
Not true!
You might need more support or a different teacher or sources of information. You might need to simplify what you're trying, to break things down into smaller steps, to practice more intentionally, or to work with your nervous system and mind to settle down.
Take care of yourself. Yes, yes and yes. Be skillful about how you best learn, oh yes! But take something being hard only as a sign that desire is stirring in you.
You can learn and do more of what you want. Always.
Because that's exactly what hard can do for you: teach you to reach for more.