My friend and master coach Michele Woodward introduced me to Brigid Schulte, author of the NYT's bestseller Overwhelmed, when she saw me singing the praises of the book on my Facebook page.
I was delighted when Brigid agreed to have a conversation with me about:
How writing the book changed Brigid… and how it didn't
The critical importance of creating a new cultural story of enoughness
How my e-book The Satisfaction Finder helped her while she was writing the book
What country has the same per hour productivity rate as America (you will never guess)
"Why don't I engineer a universe I want to live in and invite other people to join me?" Learn what high-tech start-up CEO said that.
Brigid's process of writing her book and why being tired turned out to be a good thing
How Brigid embraced play to help her write
(Click the link above to listen to the audio recording or click here to download.)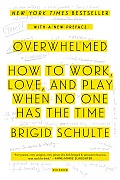 Brigid is such a wise delight and her book Overwhelmed is one I wish every person who thinks they do not have a choice in the pace and enoughness of their life will read.
Thanks for listening and for being in my world!
Love,
Jen