I've been reaching out to people I admire to share their why bother stories – the times in their lives they felt stuck or lost or despairing – big or and small – and what turned things around.
Today's story is from the incredible Tara Mohr.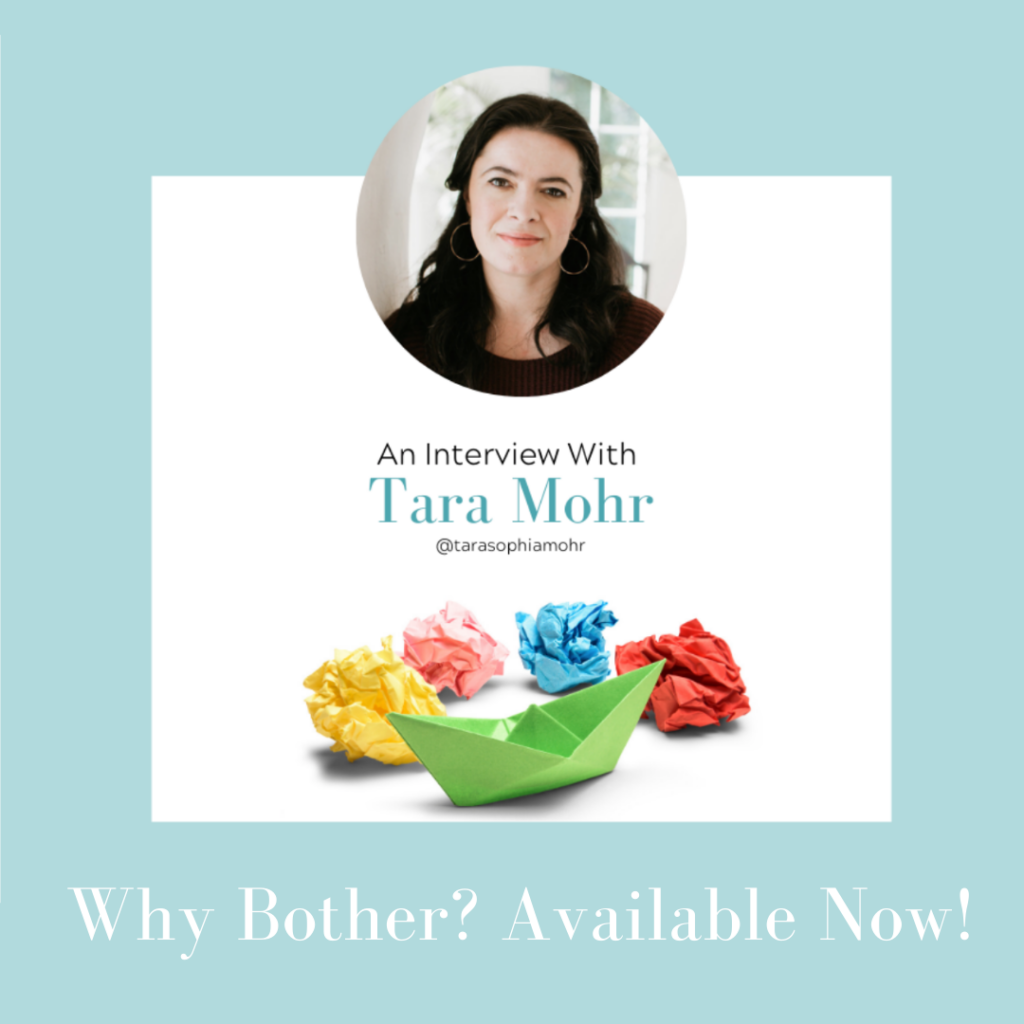 I recently was stuck in a "why bother" loop about posting on social media. The social media space felt to me like such a noisy chamber, with endless people clamoring for affirmation and air time. I was also feeling that on social media, people were commodifying their lives, and even their thoughts — selling or objectifying their life's moments in exchange for the currency of attention and "likes." I could not find the sense that my posting anything could have any positive impact — for others or myself. And yet I knew these platforms could also be a way to reach people I wanted to reach, with the messages I want to share.
After many months of not posting or blogging at all, I had a conversation with a friend about it. I vented my feelings about what was happening on social media now — what I hated about it, what I missed from the blogging scene I had "grown up" in, what I didn't want to join in on in social media. My friend was an empathetic ear. We laughed and commiserated over the absurdities happening online.
I would have thought that, buoyed by her support, I'd wake up the next morning even more firm in my position of "There's no point in posting."
Instead, the opposite happened. I woke up thinking, "This could be fun. I'd love to talk to people about a few things that are going on today. And…maybe it would be energizing to produce a small piece of content in ten minutes — especially while working on a big dense writing project (as I had been)."
In that conversation with my friend, I had expressed all my concerns, had them validated, and after that, there was a little space in me — and even a desire — to post, in a way that felt truly fun and on my own terms. So that day I posted, sharing something about my writing process, and it was fun — both creating it and interacting with those who responded to it.
When you're feeling Why Bother, sometimes it helps to say that out loud, and to vent all the reasons there is no reason to bother. When they've been allowed room to come out, you never know what you'll find on the other side.
Tara Mohr is an expert on women's leadership and wellbeing. She is the author of Playing Big: Practical Wisdom for Women Who Want to Speak Up, Create, and Lead, and creator of the Playing Big leadership programs for women. Learn more about Tara at www.taramohr.com.
Now it's your turn to #getyourbother on – what can we do to support you? Comment below or on Facebook here.